As we all know, Hades kidnapped the daughter of Demeter and made her his wife and queen. The consequence of this was the formation of the four seasons that we all know and love. Well one time, the slayer of the Minotaur and now king of Athens Theseus and his buddy Pirithous liked to chase the booty more than Dr. Frank N Furter, David Bowie in the 70s, and Lord Bryon.
Yeeeeeeeeeeeehhhhhhhhhawwwwwwwwwwwwwww!!!
In fact they became quite famous for their ability to abduct any woman that caught their eyes. Though being sons of Poseidon (Theseus) and Zeus (Pirithous) this comes to the surprise of no one. Their biggest caper was taking the daughter of Zeus and Leda, Helen! (
They were kidnapping her before Paris made it popular.
) Theseus got to keep Helen which made Pirithous quite upset since he didn't get to take her. Seeing his friend and comrade in arms so upset about this, he made an oath to help him to get any woman regardless of the case. What Pirithous told him for their next quarry reminds me why I will never make a promise to a friend again.
But before we get into this, a little background on Pirithous and how he exactly became Theseus' best friend and not just a guy who also shared a love for the female gender. Pirithous was a prince of a group of people known as the Lapiths who lived in the valleys of Thessaly and he had heard of the courage of the Athenian king. He decided he wanted proof of how tough Theseus actually was. So like a Socrates' gadfly, Pirithous devised a sinister plan to get Theseus angry at him. Steal his cattle!
Oh you've done it now!
Now most of you guys are probably laughing about Pirithous pissing off Theseus by stealing his cows, but you guys got to realize that stealing was tantamount to George Clooney and Brad Pitt robbing casinos. Cattle in this society was a valuable piece of the ancient economy and to have it stolen would mean that Theseus couldn't get some money for his hoes.
Pirithous drove the herd all the way up to Marathon and soon afterwards Theseus came a knocking. The two fought for a bit, but soon they got so impressed by each others skills that they decided to lay down their arms and make an oath of friendship. (
Those Greeks loved doing oaths for everything
) Thus the two became like Robin Hood and Little John, except with more rampant depravity and more kidnapping. Now let us get back to who Pirithous wanted to kidnap this time.
Pirithous told his friend that he wanted to go literally to hell itself and kidnap Persephone, the QUEEN OF THE UNDERWORLD. Naturally when he said this, Theseus was like, "Um dude, you sure you want to do this, no offense, but this is a stupid idea that is going to get us killed." but his friend would not relent and Theseus was honor bound to follow through with his promise. (
In case you didn't know, the Greeks took oaths VERY seriously
)
Pirithous, I am never going to make an oath with you again
So with help to find their way to the nearest hell portal and were able to avoid the Cerberus and payed Charon a one way ticket to the palace of the dead. Once inside they went over to the throne room and found Hades waiting for them. Hades was sitting down on his throne like Loki after taking control of Asgard, but he was very amiable to the two heroes and invited them for dinner.
Like any good host, he engaged the heroes in some small talk and like any good Bond villain he revealed that this was a trap, but not like any good Bond villain he made this trap inescapable, much like the Liontamer. See it turns out that Hades knew what the two were planning and this had all been a ruse to punish them. He told them this and then asked to get up from their seats.
Much to their horror, when they tried to get up, they realized that they were stuck in the chairs as Hades did his best Hannibal Lector impression to reveal their fate. He told them that they would forever be stuck in these chairs as punishment for trying to take his wife and that as long as they sat there they would forget everything about themselves. Hades then laughed like he was Mark Hamill as he left them to their fates. Story over? Not quite.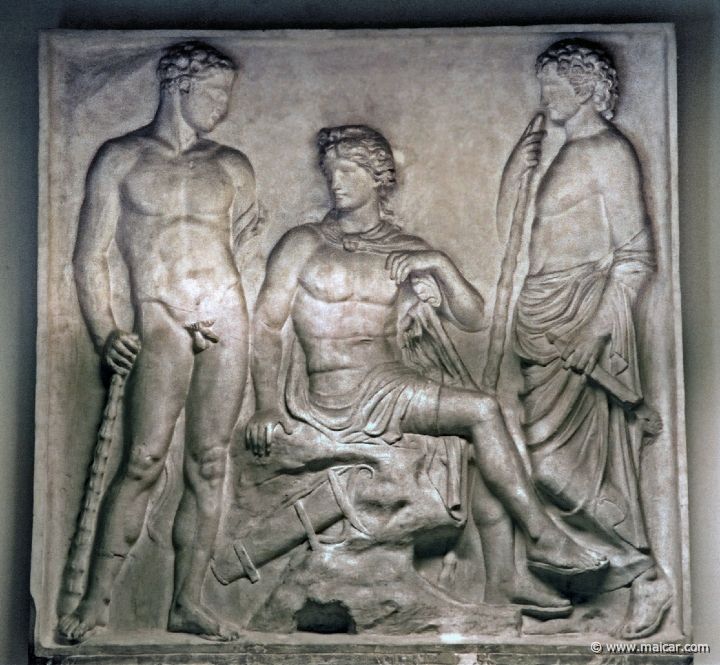 Well I would like to stay with you best friend, but I got some fine tail to meet back in Athens!
After a few years another hero would descend to the Underworld, but not to steal the Queen of the Dead, but to take the guard dog. Yes, it was Heracles that saved Theseus and note why I only say Theseus here. It wasn't Herc being a douche, but because trying to pull Pirithous would cause the Earth itself to crumble.
After pulling Theseus out, he tried to pull the other out only for the ground to shake violently and for Hades to come out and basically tell him, "That man tried to take my woman, he is going to pay for that, Theseus wasn't completely culpable, so he can go." And so, Theseus returned to land of the living and got back with his new love Helen right? As Kevin Spacey would say
WRONG!!!!!
While Theseus was out of the loop for all those years, the Gemini Twins (
Seriously sounds like a great tag team
) went over to Athens and got back their sister and also Theseus' mom to throw some salt on the wounds. So in closing this blog remember this little nugget of intelligence: Always make sure to know your friend's crazy scheme before you decide to make a blood oath. Now here is Mark Hamill laughing for 4 mins.
Yeah Hades got nothing on Hamill