Welcome back to Moments in Greek Mythology and welcome to part 3 of The Quest for the Golden Fleece miniseries! Three parts in and now we finally get to see the Argo makes its maiden voyage out to the Aegean. Will there be adventure and sex in this blog? The answer is most definitely yes, but with that aside let's get started.
"Are we there yet?"
"No"
"How bout now?"
"No!"
"Now?"
"Heracles, I swear to god, I will throw you off this boat if you keep doing this!"
As I said when we last met, the crew had been assembled of a who's who of Greek heroes and warriors all on one boat that had a talking prow. This dream team of a crew was lead by our main hero, Jason, who was being used as a pawn in a grand scheme by Hera to get revenge on Jason's corrupt and power mad uncle, Pelias. (
Note: Hera only cared about the slight that Pelias caused to her in the Sidero incident, not the fact that Pelias had usurped his brother Aeson from his rightful throne.
)
The first few days went well for the Argo and her crew, the wind was blowing favorably and they had some of the strongest demigods rowing the oars of this boat. Suffice to say, the trip was going quite smoothly as they raced across the Aegean Sea and soon they would reach the Dardanelles Strait.
However, as they got closer to the western coast of Anatolia, they came across a large island where they would make their first stop in their journey. It was the island of Lemnos and it was inhabited solely by women in a sad story of pissing off an immortal. (
No these weren't the famed and fierce Amazons, nor were they Lesbians[Those came from the island of Lesbos]
)
Wait you didn't tell how to drive this thing!
Once there was prosperous kingdom on the island of Lemnos, but one day something happened that would lead to its ruin forever. For some reason, the women of the island started to neglect their worship to Aphrodite and because of their impiety, the goddess of love turned into a real bitch. She would unless a horrible curse on their collective asses.
What kind of curse you may ask? The terrible curse of BAD BODY ODOR! Yep Aphrodite used her powers to make all the women smell so bad in stench that their husbands could not bear to be with them. Soon the husbands began taking concubines from the the Thracian mainland to the west.
The women, spurned by their husband's collective infidelity decided to take revenge and I mean the disproportionate retribution that is such a mainstay in Greek myth. As they slept, every woman on the island went up and murdered every single male inhabitant on the island! (
Indeed hell hath no fury than a woman's scorn
)
The only man to survive this gendercide would be Thoas, the king of Lemnos. His daughter, Hypsipyle, who was unable to kill her father in this slaughter, helped him escape via an oarless boat (
Sometimes described as a chest
) Now without men, the women lived a few years without them and Hyspsipyle ruled as their queen. It then turned out that the effects of the curse only worked on the men whom they had killed on the island, but they would only find this out when Jason and his merry crew came along.
Nothing more Greek than a orgy I say!
Their stay on the island was long, but somewhat memorable for the Argonauts. What happens next is only natural and there was a massive orgy between the two groups, but what about that curse? Well it turns out that the curse placed on the women only made it seem that they smelled bad to their male relatives on the island. (
Basically Aphrodite was messing with the men's minds and senses
)
As a result of this orgy of pent up hormones, the Argonauts created a whole new race of people! This new "race" would be called the Minyans and Jason in particular would father twins with Hyspsipyle. Soon however, the only Argonaut who had not engaged in any of this depraved and decadent debauchery finally had enough and convinced them to get into the boat.
Who was this Argonaut? You are probably thinking it was the sensitive bard Orpheus, but you would wrong. Maybe Euphemus? (
Wait he is a son of Poseidon nevermind
) Nope, the answer is actually quite surprising given this hero's past behavior and who his father was.
God damn it Herc! Why do you either have to be annoying or a buzz kill?
Yep, the son of Zeus king of all sexual abandonment and it wasn't like Heracles was a prude either; he had sex with a lot of women before and after these. (
I guess the poet's needed the strongest of the heroes to convince the others to leave
) Anyway Heracles was quite disgusted by the way his crewmates and was able to convince Jason to get the crew back on track to their mission.
When the Argonauts got back into the boat and sailed away to continue their journey; few if none of them realized what a mark they left on that island. The island had been rebalanced by this crew of heroes and they would create a new race as I said earlier, but this blog isn't over yet.
That's because I'm going to look at the next side adventure the Argonauts made in there journey for the Golden Fleece. But before we do that, I think I found a video of how Heracles convinced the Argonauts to leave.
Oh Arnold, how I love thee
Again there was favorable wind and smooth sailing for the Argo, but as soon as they reached the Dardanelles strait they made another stop.
Ah yes just go to this place called Bear Mountain, nothing bad over there
They landed at the city of Cyzicus and were immediately greeted by the king who went by the same name. King Cyzicus ruled over a race of people know as the Dolionians, was actually a migrant from Thessaly. Because of his roots, he was more than happy to help Jason, a fellow Thessalian, and his crew. (
Also there is the concept of Xenia, which was hospitality for guests, that the Greeks took hospitality VERY SERIOUSLY
)
After treating them graciously for an undetermined amount of time, though probably a couple of days or so, he decided to point them into the right direction. He said there was a land beyond a place called Bear Mountain where they could continue their journey for the Golden Fleece. However, the king failed to mention what horrible monsters lived there. (
You'd think he would remember that factoid
)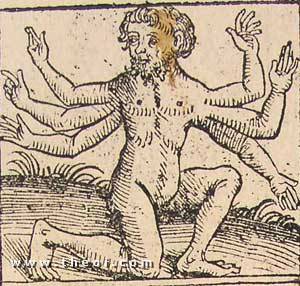 It ain't easy being a naked six armed giant cannibal you know?
The crew took the kings words to heart and sailed past Bear Mountain where they found a land rich in resources to resupply the probably dwindling food and water supplies. Jason had the crew split up into two: group A would guard the ships and Group B would go into the forests to find food and water. While group B was looking for stuff, group A would find what that doting king forget to warn them about.
What came out to confront the men guarding the Argo were a tribe of monstrous abominations to put it bluntly. They were the Gegeines, Earth-borne giants who had a taste for human flesh. They were giant, (
naturally
) six-armed, humanoids that wore nothing but a leather loincloth. (
Hey at least they were modest
) So when these monsters saw the Argo and saw that there were few guarding it, they decided to go on a raid.
What these giants didn't know was that Heracles was one of the men guarding the ship and that man knew a thing about killing giants. By the time that Jason and his group had returned, most of the Gegeines had already been killed by Heracles and his amazing tree club. (
God knows how they got that club on that boat
)
With the giants effectively killed, the crew returned to looking for food and water in the forests much like before. While Heracles search for wood to carve a new oar, his young servant Hylas decided to go on his own like the young fool that he was. This would be the last time any of the Argonauts would ever see the boy again.
Hmmm stay with my friends or get laid and enjoy immortal pleasure, decisions decisions
In his quest to find water, Hylas found a spring source and was excited at his luck. However, Hylas should have known this, everything had it's inhabitants and should have brought a friend with him. (
I can see why camps have buddy systems now
) For the specific group of nymphs which resided in spring were known as Naiads and they were quite interested in the youth.
As he bent down to get a drink of water, the Naiads pounced and pulled him into the water. Despite being a strong young man, he was unable to escape their grasp. Then they told him that they wanted to live them forever and about the endless sex that they would have. (
Hey if I was offered that, I would stay with them too
) Eventually Hylas fell in love with them in return and would remain with them, "sharing their power and their love."
Now let's see how Heracles reacted to losing his young ward:
Well he took it well
Yeah, after losing his arms bearer, Herc kind of went crazy trying to search for him. He even got another Argonaut, Polyphemus, (
Not the cyclops
) to help him as he ripped apart the entire island looking for his young ward. The rest of the crew saw this and Jason decided to leave Heracles to get back to their original quest.
Eventually Heracles realized it was no use and went back to finishing those Labors he had been ordered to do. (
Wonder why Hera would allow Heracles on the crew since she hated his guts
) Anyway, sadly there will be no more Arnold Heracles in this story. :(
We will miss you, always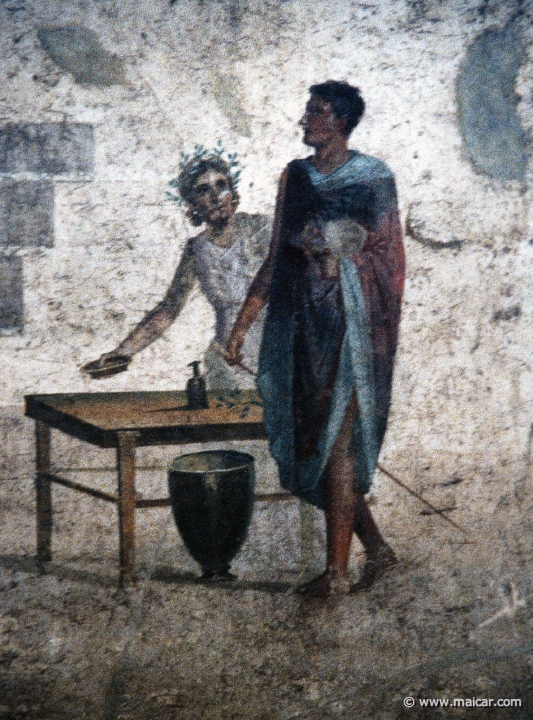 Yeah we kind screwed the pooch here
After getting back on the Argo, the crew suddenly got hit with the idiot ball and lost their bearings. When they landed back in the night it turned out that they were in Cyzicus, but because it was dark they couldn't tell where they were anymore.
Meanwhile in the darkness, the Doliones saw the heroes, but due to the darkness they thought the Argonauts were enemies and attacked them. The Argonauts retaliated, also not knowing that these men were the Doliones, killing many, including king Cyzicus himself. Soon as a result of his death, Cyzicus' wife hanged herself in grief. (
God if they just decided to stop by in the morning, all this could have been avoided
)
When morning did come and they realized their terrible mistake, the Argonauts immediately gave the kind king an extremely elaborate funeral. After this, they decided it would be a smart move to bail because I'm sure the locals would not be happy once they found out that it was them who murdered their king and countrymen. The winds were still favorably and they still had a long journey ahead of them.