Well I think it is time to begin another epic series and this time I want to do a grand adventure with an all star cast. This of course is the quest for the Golden Fleece as told in the epic poem The Argonautica. Before we begin this mammoth journey, let us find out what exactly was the golden fleece and why it was located in such a remote place on the Earth.
Better than that Ixion fellow
Amazingly enough this story is deeply connected to the last two stories, as a certain woman makes a significant impact in this tale. However, our myth takes place in the city of Orchomenus (
The rival of Thebes
) which was ruled by the Minyan (
A legendary race from the Aegean
) King Athamas. The founder of the Thessalian city of Halos married the cloud woman Nephele that Zeus had created to trick the wicked king Ixion who was eyeing Hera at a party. (
As seen in blog 37
http://thatguywiththeglasses.com/blogs/myblogs/entry/037-moments-in-greek-mythology-ixion-barks-up-the-wrong-tree
)
So after she gave birth to the entire race of centaurs (Except Chiron of course) and Ixion was dead and burning in the Stygian abyss of Tartarus, she married this king Athamas and they had twins. This brother and sister duo were named Phrixus and Helle, but soon this happy family would dissolve.
You see after a few years of stability, the King fell enamored for another woman. This woman was Ino and this is where those two stories from the last couple weeks. (Remember she was the daughter of Cadmus who would later rip her nephew in Bacchic revelry)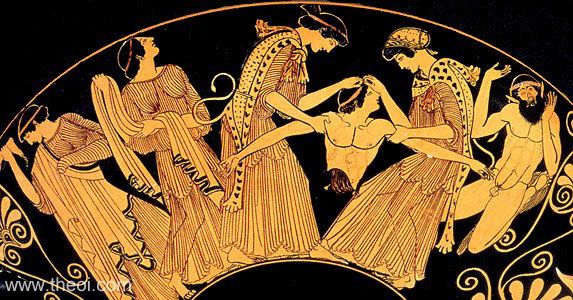 You know this chick
Anyway, Athamas divorced from Nephele and then immediately married Ino, leaving the sad Nephele to leave the kingdom. The new couple would have two sons, Learchus and Meelicertes, but this is unimportant. What is important is the relationship between Ino and the children of the king's last marriage. (Hint hint, she's not fond of them)
In fact, she fucking hated her step children's guts, HATED THEM! Really I don't know why, maybe it's because her sons could not ascend the throne since Phrixus was most likely the heir to Athamas' throne. So because of this, she hatched an evil scheme to get her step children killed. (Hurrah for childrencide! And once again cementing the cliche that step mothers are most likely evil)
Her plan was to first give a reason why these innocent youths should be killed, which was a little harder than you might think. (And no she didn't break into Athamas' prized commemorative plate collection and break them to get the kids in trouble) What she did was roast all of Boeotia's (The region that Orchomenus was located in) crop seeds, thus causing a region wide famine.
Soon farmers were terrified as people began to starve and being the superstitious lot that they are, went to consult the oracle to find a cure to this terrible plight. It was here that Ino bribed the men sent to the oracle and told them to lie about the seer's prediction. When they returned, they said that the famine would only end if Phrixus was sacrificed. (Been a while since I did a child sacrifice story)
Quick! To the ram mobile!
Word soon reached to Athamas of what the oracle had said and reluctantly decided the fate of his kingdom over the life of his son. (To be fair, when there is an angry mob of starving folk telling you that you need to kill your son in order to save the kingdom) And so the date was set for the boy's death, but someone had seen through Ino's plan.
It was the twin's mother Nephele who saw with her semi-divine (Being a creation of Zeus and not an actual person) powers that Ino was trying to kill her only human children. She was going to stop this evil plot and save her kids, all she needed was a way to get her children out of there. But how?
A giant, golden fleeced Ram (Wonder if that is where our titular golden fleece comes from?) that could fucking talk and fly! This flying beast was sent just in the nick of time as the priest was about to sacrifice the boy. He also went over and took Helle before flying back in the sky, saving the twins from their evil step mom.
The ram told you not to do that, why did you do that?! I don't know!
Once in the sky, the twins were instructed by the ram to not look down or bad things would happen. This is going to be a very short section since they just sat on the back of a magical ram for a journey to some unknown location. (Thankfully for them this wasn't Zeus disguised as an animal or they would be screwed) Anyways like most children, they kind of like to forget what they are told not to do.
Unfortunately, as they were flying over the Dardanelles strait that separates the Greece from Anatolia, poor little Helle decided to look down. As soon as she did this, she fell into the ocean and drowned, it was from then on that the Greeks would call it the Hellespont. (Helle's Sea) However, despite losing his twin sister, Phrixus continued on and did not look down until the journey ended.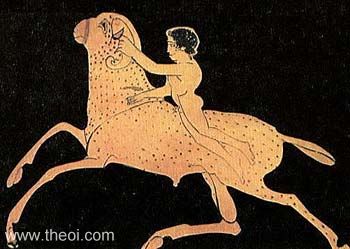 Thanks for taking me here, now do you mind if I sacrifice you?
The ram took Phrixus all the way to Colchis (A kingdom where modern day Georgia and Armenia in the southern Caucasus area) where he is dropped off at the palace of King Aeetes, a son of Helios the sun titan, and he was welcomed immediately and kindly.
It was then that the Ram who had saved Phrixus from being sacrificed was then sacrificed by the young man himself as an offer to Poseidon. As gratitude for allowing him to marry Aeetes' daughter Chalciope, Phrixus gave the golden fleece to the king. The king then took the Fleece and placed it on a branch of a tree in a sacred grove dedicated to Ares that was guarded by a dragon that never slept.
As for Phrixus, well he and Chalciope had a good life and they had four sons. These sons would later join forces with the crew that would go on the quest for the Golden Fleece. Next week, we begin the story of Jason and the old lady at the river.
Just to get you pumped for this.