Now that we know how the Golden Fleece got to its far away location in the Modern Day Caucasus region, this time we will get why a quest was sent for it and the backstory of Jason before meeting a strange old woman at a river. So really this is just more exposition and build up to this epic adventure.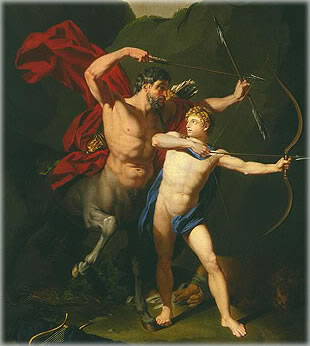 God help you miss that target again or you are going to have to sleep outside for a week!
Our story begins with two brothers, one who was king and the other who became very power hungry. (It doesn't take much to start seeing what is going to happen) The king's name was Aeson and he ruled the kingdom of Iolcos (Located in the modern city of Volos in the Magnesia region of Thessaly) fairly and wisely. The power hungry evil brother was Pelias and he wanted to become king of Iolcos so badly.
Pelias was actually the half brother of Aeson because their mother, Tyro, had a relationship (Which totally didn't result in rape) and she had two sons, the aforementioned Pelias and another named Neleus. Aeson was the eldest son of Iolcos's founder, Crethus, and because his father was the king, he got to ascend the throne when Crethus kicked the bucket.
Eventually, Pelias staged a uprising and was able to overthrow his half brother and became the king of Iolcos. In the coup, Pelias made it a mission to kill any descendants of Aeson (Whom he had imprisoned) and had his other brothers exiled. What the new king didn't realize was that Queen Alcimede had recently given birth to a infant son that she would name Jason.
Alcimede gave her son to a bunch of women and had them cry as if he was stillborn, thus Pelias didn't kill the baby. (You'd think he would have made sure, but then this wouldn't be an interesting story) The queen spirited the baby to the nearby cave of Chiron and she asked the wise centaur to teach the baby to become a great hero. Sadly, when she returned to the new king, she was forced to commit suicide via either noose or poison. The boy would live though, and he would grow to become a handsome young man that was ready for adventure and glory.
No, I'm surprisingly not going to kill you or ruin your life, I'm just as surprised as you are
When he was all grown up and ready to set off back to civilization, Chiron advised him to return to Iolcos, knowing that King Pelias would not know that the young man was the son of Aeson and rightful heir to the throne. However, the wise centaur did not put in account the paranoia of the king and that he had asked his trusted oracle to predict how he would lose the throne.
The seer had told him that the real king of Iolcos would come as a young man with only one sandal. What the oracle did not tell him was that this usurper would be backed by the gods themselves, but not just any god. Hera of all people would be aiding him! Why? Well there is a story to that.
First, Jason was not a hero of some divine coupling so it wasn't like she hated him for being a Zeus lovechild. She hated Pelias because of his actions he did one dark night.
As I said earlierTyro was married to Cretheus, but what I didn't say was that she loved Enipeus, a river god. She pursued Enipeus, who refused her advances. One day, Poseidon, filled with lust for Tyro, disguised himself as Enipeus and from their union was born Pelias and Neleus, twin boys. (So basically he pulled the same kind of trick that Zeus did with Heracles' mother, Alcmene)
Tyro did the old way of getting rid of unwanted kids by leaving her sons on a mountain and hoping that exposure would cause them to die, but they were (Of Course) found by a herdsmen who raised them as his own, as one story goes, or they were raised by a maid. When they reached adulthood, Pelias and Neleus found Tyro and killed their stepmother, Sidero, for having mistreated her. Sidero hid in a temple to Hera but Pelias killed her anyway (On the freaking altar no less!), thus causing Hera's undying hatred of Pelias.
So when she saw the man who was going to eventually succeed his half-uncle's throne, she decided to use him as a pawn in her grand scheme to ruin Pelias' life.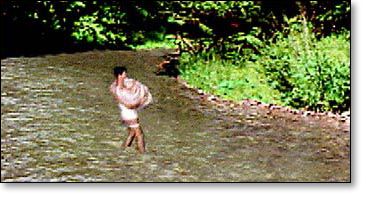 The Water isn't that deep you know?
As Jason continued his journey to Iolcos, he found himself in front of a the River Anavros (Which actually was a torrential stream, but that doesn't sound that impressing). Since there was no ferry and he could not ford it so he just said to himself, "I'm pretty athletic, I can just walk across it" So he looked for the shallowest part of the river and was about to cross it when someone interrupted him.
An extremely old and decrepit hag tugged at his shirt and kindly asked him to carry her across the river. Being the gentleman that he was, he accepted and picked her up to journey across the stream. As they continued on their merry way, Jason began to feel as though the old woman weighed a ton, but he was able to huff and puff his way across the river. Right at the middle where the Anavros was at its highest, Jason found he was neck high in water and that he lost one of his sandals.
Finally, they reached the shore on the other side and it was then that Hera partially revealed herself to be the Queen of the Olympians. (Remember what happened to Semele?) She told him of the prophecy and of his past as a son of the true king of Iolcos. She said that the king knew about the prophecy about the the true king being a man with only one sandal. With this knowledge, Jason now came to Iolcos with a goal and that was to restore the throne to its rightful king.
Wait, you are wearing no sandals!
While this was going on, there was a festival dedicated to Pelias' father Poseidon. During these times, games were held in honor for the holiday. This made it fairly easy forbably shit his pants seeing this.
Jason told his uncle that he was the rightful heir to his father's kingdom and that he should step down from his rule. Pelias then replied, "If you want to take the throne from me, you must go on a quest to retrieve the Golden Fleece." Jason immediately accepted and thus the wheels began turning to get a crew to set off the Aegean and search for this fabled fleece. Next week, the assembling of the crew and the construction of the Argo. (And maybe a couple of the first adventures in this quest)
God this some epic music