Today's story is not a story of love, but a story of hate and revenge. (That's the Greek Mythology we know and love!) Our hero is once again the jolly and adventerous god of the vine, Dionysus, who tries to return back to his birthplace in the city of Thebes. The villain of this story is the King of Thebes and cousin of Dionysus, Pentheus, but he was not the party lover like Dionysus.
This is a story of not paying attention to what seers tell you and the conflict between the excess of Dionysus and the control freak nature of Pentheus. (Seeing as Dionysus is a god and Pentheus is a mere mortal, you can kind of guess who wins this)
In the left corner, weighing at two hundred and twenty pounds, he is the ultimate party boy, DIONYSUS!!!!
And on the right corner, he is the ultimate buzzkill, he is Pentheus!!!
To understand the whole story we would have to explore the birth of Dionysus, but that story deserves its own entry. Basically, the mother of Dionysus, Semele, died before her son's birth, but her sisters Agave, Autonoe, and Ino, and her father King Cadmus believed that she had died because she had blasphemed to the gods. (Also Hera was a bitch in that story)
Eventually Agave married the strongest of the legendary Spartoi (You remember, the people created from Cadmus sowing the dragon teeth) who went by the name Echion, and they gave had a boy named Pentheus. As the years went by, Cadmus wanted to retire do to old age, thus he gave the kingdom to Pentheus.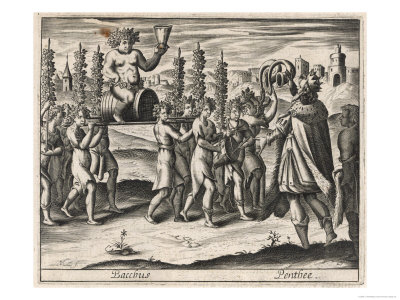 Aw hell na, stop having fun!!!
Now the reason why Dionysus returned to his birthplace was to clear the name of his mother and convert the people to his worship. Dionysus was able to succeed in both parts, he was able to convince the people to worship him and he was able to vindicate Semele's name.
Soon the whole city was in a state of Bacchic excess (You see what I did there?) and everyone was in a festive mood. The women of Thebes especially were enamored with Dionysus and his rites, but even the former king Cadmus and the famous seer Tiresias were about to arrive to the celebration when Pentheus returned and saw them wearing festive garb. And boy did he have something to say.
Boy you try to stop this party, you going to get fucked up
The young king scolded both men harshly and ordered to his soldiers that anyone found performing rites to this "false god" would be arrested. This course of action did not sit well with the blind prophet and he tried to warn Pentheus what would happen if he continued his plan to suppress this new cult.
Tiresias told the king that if he tried to looking into Bacchic rites and trying to stop the worship of Dionysus, that he would be ripped into thousands of pieces. Of course Pentheus didn't listen to the guy who could predict the future (That would be the smart and logical thing to do) and continued on with trying to stop this new cult to Dionysus.
You mad Pentheus?
Eventually the guards returned with Dionysus himself, who had disguised himself in the form of a priest of Dionysus and the leader of the Asian Maenads. (Crazy, drunk, feral, female members of the Dionysus cult) Pentheus questioned him, still not believing that Dionysus was a god. However, his questions revealed that he was deeply interested in the Bacchic rites, which the stranger refused to reveal fully to him.
This greatly angered Pentheus and he had Dionysus locked up. However, being a god, he was quickly able to break free from his bonds and jail cell. In vengeance created more havoc, with the coup de grade being razing the palace of Pentheus to the ground with in a giant earthquake and fire.
Word arrived via a herdsman (Really Dionysus) that the Bacchae on Cithaeron (A nearby mountain) were behaving especially strangely and performing incredible feats including: putting snakes in their hair in reverie of their god, suckling wild wolves and gazelle, and making wine, milk, honey and water spring up from the ground. He told them that when they tried to capture the women, the women descended on a herd of cows, ripping them to shreds with their bare hands. (An ancient Bacchic ritual known as Sparagmos)
Those guards who had attacked the women were unable to harm them with their weapons, while the women could defeat them with only sticks. (The ewok effect) Dionysus wished to punish Pentheus for not worshiping him nor paying him libations. Thus Dionysus used Pentheus' clear desire to see the ecstatic women to convince the king to dress as a female Maenad to avoid detection and go to the rites. (Man it was easy for men to crossdress in Greek Mythology)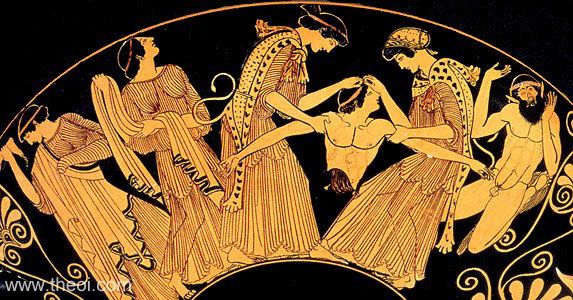 Oh dear god I should have listened to the guy who cold predict the future?!
Dionysus dressed Pentheus as a woman and gave him a thrysus (a scepter topped with a pine cone) and fawn skins, then leads him out of the house. Pentheus began to see double, perceiving two Thebes and two bulls (Dionysus often took the form of a bull) leading him.
The god's vengeance soon turned from mere humiliation to murder. A messenger arrived at the palace to report that once they reached Cithaeron, Pentheus wanted to climb up an evergreen tree to get a better view of the Bacchants. The blond stranger used his divine power to bend the tall tree and place the king at its highest branches. However, once he was safely at the top, Dionysus called out to his followers and showed the man sitting atop the tree. This, of course, drove the Bacchants wild, and they tore the trapped Pentheus down and ripped his body apart piece by piece. (This scene could best be explained with this movie clip:)
Oh Day of the Dead, one of these I'll watch you, but for now I will stick with Dawn of the Dead
After the messenger had relayed this news, Pentheus' mother, Agave, arrived carrying the head of her son. In her possessed state she believed it was the head of a mountain lion, and she killed him with her bare hands and pulled his head off. (Agave wins FATALITY!!) She proudly displayed her son's head to her father, believing it to be a hunting trophy. She was confused when Cadmus did not delight in her trophy, his face contorted in sheer horror.
By that time, however, Dionysus' possession began to wear off, and as Cadmus reeled from the horror of his grandson's death, Agave slowly realized what she had done. The family was destroyed, with Agave and her sisters sent into exile, though Cadmus and his wife Harmonia were actually honored by Dionysus when he turned them into snakes. Tiresias, the old, blind Theban prophet, is the only one not to suffer. (Though he has suffered much already)