When last we met on Moments in Greek Mythology:
Cupid ditched Psyche after she accidently spilled hot wax on him (Oh and something about breaking a promise)
Then this happened:
Psyche tricked her two bitchy sisters and indirectly got them to commit suicide via falling to their deaths
But not even getting her siblings to kill themselves did not satiate the incredible passion in her heart. For she had fallen victim to the arrow of Cupid like Cupid himself when he first met Psyche. So she began her wanderings, looking everywhere for her true love, but to no avail. At some point in her meanderings, she came across a temple that was in terrible condition.
Feeling it would be wrong and even blasphemous to leave a temple into such a state, Psyche decided it would be for the best to spruce up the place. (
Always a good move, you never know how the gods will react if you don't do the simplest of tasks
) Anyway, it was because of this action that our heroine would be aided by the gods themselves. (
Well sort of
)
Thanks for cleaning up my temple and all, but I can't really help you
As she was sorting and cleaning up the mess in the temple, the deity who was worshiped in this holy place appeared before her. It was Ceres (
Demeter, goddess of the crop
) and she gave her thanks to Psyche for cleaning up her dilapidated temple. However, when Psyche asked for her help in getting back with Cupid, she told her that she couldn't do such a thing and could only give her advice.
This advice turned out being that Psyche had to go to the temple of Venus (
You know the bitch who started all this?
) and summon the goddess to see if she could be convinced in allowing Psyche to be with her son. Now while still unaware that Venus was the cause of all her misfortune, Psyche still wanted to see if there was an easier way to be reunited with her love.
Sorry it's not like I'm the queen of the gods or something
So Psyche went down to the nearest temple dedicated to Juno (
Hera, but significantly less bitchy in this story than usual
) and prayed for the Queen of the Olympians to appear. Juno answered with the same answer that Ceres gave her, she had to seek Venus in order to reunite with Cupid.
Juno then disappeared, leaving poor Psyche alone and no choice but to make her way over to the nearest temple to Venus. When she entered it, Venus was already there and ready to make Psyche go through hell to get to her beloved son.
Now if you excuse me, I think this is actually poison ivy
Venus said that Psyche could have Cupid if she complete a number of tasks that the goddess thought impossible for a woman like Psyche. The first was to separate all the grains in a large basket of mixed kinds before nightfall. Psyche accepted the challenge and began to attempt the task. Venus merely laughed and left to herself, thinking that she would never complete the task in time. (
What a cunt
)
While she went off to good start, it did not take long for Psyche to realize it was hopeless that she alone could separate the grains. All was not lost though, for a lone black ant saw the woman's plight and took pity. Soon he and all the whole nearby ant colony came up and did the work for Psyche just before nightfall.
When Venus returned, she was both shocked and outraged that Psyche was able to do this. (
Well technically not, but that's beside the point
) So the next task that Venus was going to give Psyche was not only tougher, but incredibly deadly. Her task? Get some golden wool from some sheep.
Yeah I just like hanging out in the reeds looking at sheep, what?
Now you maybe asking, "Gee Zach that doesn't sound hard? Getting wool from sheep, that's child's play!" Well you would have forgotten that this is the same universe that has fire breathing cattle and man eating mares. These golden sheep would fucking kill you if you tried getting anywhere near them.
Of course Venus didn't tell Psyche this little tidbit, but did tell her the sheep's location no questions ask. (
God woman, what is wrong with- oh yeah you are a Greek Goddess
) So Psyche herped and derped her way to where the sheep grazed, but thankfully she was near a river.
Why was this good? Because the local River-god (
Can't have a river without one
) came up to warn and help Psyche. He told her that the sheep were vicious and strong enough to kill her easily, but there was a way to get their precious wool.
How the fuck are you still alive?!
He told her that while she could wait until noon when the sheep rested in the nearby fields. During this time she could pick the golden wool that had gotten stuck on the nearby branches and bark of the trees. She did as the river god said and successfully brought back the golden wool to Venus.
Venus then gave her another task, Psyche was to get water from a cleft that was said to be impossible for a mortal to obtain. (
Oh and there was a giant serpent guarding the water
) Psyche didn't falter and made her way to the cleft, there she looked up and saw that the cleft was incredibly high up and of course a giant snake was protecting the water. Now not being sexist, but Psyche had no chance in hell to defeat the snake and climb up to get the water. She had help in the form of an eagle that killed the serpent and brought down the water to her. (
That is some Beastmaster shit right there!
)
I guess even the people in the Middle Ages who made this woodcut thought a literal talking tower was a bit silly
Venus was furious that Psyche had survived and completed all her tasks, so she thought of the most dangerous type of quest of them all, going to Hades itself! She claimed that all the stress of caring for her son, who she said had been made depressed and ill at Psyche's lack of fate, had caused her to lose some of her beauty. (
This was all pure grade bullshit mind you
)
So for her final task Venus ordered that Psyche go through the underworld and ask the queen of the dead, Proserpina (
Persephone who we've already talked about a while back
) to place some of her (
Proserpina's
) own beauty and place in a special box. The only problem is that Psyche didn't have any reasonable idea to get to the Underworld. In fact, her plan to get there was pretty stupid and insane.
Her plan of course was to climb a nearby tower and jump off, since in her mind, killing herself would give her a first class ticket to the Underworld. However, the unlikeliest of beings told that her plan was fucking stupid. Yes as the woodcut image above (
Thankfully I found a lot of those for this blog
) the tower itself spoke to her of the way down to Hades instead of letting her plummet to her death. Now with the directions to Hades, she made her way to it's cavern like entrance. (
As for the tower, well that would be the later site for Pee Wee's Playhouse
)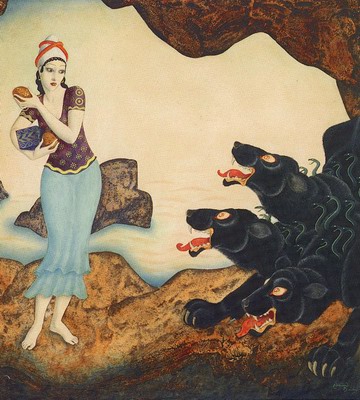 Here eat this cake you three headed hellhound!
The tower had given Psyche some more advice on how to survive the Underworld. First, she had to find a way past the Three Headed Guard Dog Cerberus who only allowed the dead in, but not out. Now it took brawn for Heracles to get past it and it took the power of music to allow Orpheus through, but how would Psyche get past it? Simple, a small cake, that's right a small yet delicious confection was all it took for Psyche to get past the vicious Cerberus.
The most important thing that the tower told Psyche was the all important don't eat any of the food down there or be stuck in the Underworld for eternity clause that queen Proserpina knew all too well. However, the tower told Psyche that there was something she could eat and that was coarse bread. So with this advice Psyche was able to make her way past all the challenges and make her way to the queen's quarters.
Nice time for a trek across the River Styx me lady?
The transaction went pretty smoothly as Queen Proserpina gladly gave up some of her beauty and placed it within the box. Psyche then wasted no time returning to the realm of the living, but once she reached the upper world she did something so selfish and stupid that it boggles my mind still.
Gee nothing can possibly go wrong because of this
She fucking opened the box and tried to take some of the beauty for herself! Did she learn nothing about Pandora, never open a box that has anything to do with gods, it leads to only pain and suffering! So guess what happens to her? There was actually no beauty inside that box, but instead an infernal sleep that overcomes her. Poor Psyche would have remained in a Sleeping Beauty like coma forever, but her prince charming was about to make the save.
Well it's about time you showed up, your mom is a real bitch you know?
Cupid, who had forgiven what Psyche did with in the whole "Hot wax incident", flew to his beloved Psyche and wiped the sleep from her face and placed it back into the box. Now finally reunited, Cupid wanted to finish their relationship with a wedding once and for all. This required a God who knew about honor, dignity, and upholding of nuptial values! (
But since no god exists in Greek or Roman Mythology I guess they have no choice, but to talk to the man who is none of those things, Jupiter [Zeus]
)
I'm sure Jupiter isn't really interested in their whole marriage problem, but how to get them in a threesome with him (You can never put it past him to do that, just look how he is looking at Psyche and holding Cupid!)
And so Cupid was able to reach to Jupiter and plead his case that he and Psyche should be allowed to marry. Jupiter being the less sex crazed/deviant/rapist than his Greek counterpart ordered a formal (
Well for the Greek gods that is
) council of the other Olympians to decide Psyche and Cupid's fate.
After careful deliberation and arguments from both (
And by that I mean the 10-11 Olympians vs Venus [and maybe Mars]
) it was determined that the two could and should be allowed to marry. Jupiter himself then fetched Psyche up to Mount Olympus where she was given a drink of the divine ambrosia and made one of the immortals. It was then that Venus and Psyche begrudgingly forgave each other.
In the end Psyche and Cupid would have a daughter named Voluptas (
Hedone in Greek Myth, which is where we get the word hedonism from
) who later become the goddess of sensual pleasure. (
So basically she is the goddess of the pleasure you get from masturbating
) And with masturbation this story is finally over!
Wow a couple living happily ever? This is what the second time that this has happened in Classical Mythology?
I hoped you guys enjoyed it, this was a lot of work and this will be the last blog I'll be doing from my house, because this Friday, I'm moving in to the Indiana University of Pennsylvania. It'll probably be an easy transition since I'm technically a sophomore and have one year of community college under my belt, but the difference here is I'm on my own basically and not home anymore. So any well wishes or best of luck comments would be appreciated.
Remember to follow me on twitter:
https://twitter.com/#!/AchillesF6
And be sure to send me requests, criticism, praise, or questions down at the comments section
Thank you for reading and here is a song that I personally love and think fits this story perfectly:
Oh Meat Loaf, I saw you in concert in Pittsburgh this year and you were awesome! (Even if you fainted midsong, but you got back up and sung your fucking heart out!!!! Total respect and you should be in the Rock N Roll Hall of Fame DAMNIT!)