There was once a family in Greek Mythology that was considered the most tragic of all time. From it's beginnings with the disturbing Tantalus to the murder of Agamemnon and later Clytemnestra, this family is ten different flavors of messed up. However, what is this curse of Atreus that I spoke of? Well it's the story of the two sons of Pelops and how their antics furthered the curse that began with Tantalus. As a side note, there was a little tidbit that I forgot to mention in my last entry, remember Myrtilus? Well I forgot to tell you guys that before he died at the hands of Pelops, he cursed him and his line, so that probably added on to the chance of misfortune in this family caused by that wacky Tantalus.
Wow this family tree is just filled with more tragedy than a emo's social life
The two sons of Pelops and Hippodamia were Atreus and Thyestes, but they had a stepbrother named Chrysippus. Now in a move to make sure that her sons got the kingdom, influenced her sons and had them help her murder their stepbrother by throwing him in a well. (Unfortunately Lassie was unable to get a boy to save him) This wasn't the perfect heist and Pelops found out so he had Hippodamia and her sons banished from the land. They found refuge in the kingdom of Mycenae, but Hippodamia opted to kill herself via hanging.
That fucking harlot!
Following the suicide of their mother, Atreus and his brother lived the land in exile. It was there that Atreus met his wife Aerope and he vowed to sacrifice his best lamb to Artemis, but when he found a golden lamb from his flock did he pick it out to be sacrificed? Of course, lamb be pimp and golden yo, so he had his wife hide it to prevent it from sacrificing it. What Atreus did not know was Aerope gave it to her lover, Thyestes! That's right Aerope was sleeping with Atreus' brother behind his back, but Thyestes had bigger plans to do with that lamb (I know what you are thinking, but there is surprisingly little bestiality in this story) Thyestes then told his brother that there should be something that would decide who would be king. He then convinced Atreus that whoever had a golden lamb would be king of this domain. Just as Atreus was going to say that he had the lamb, WA-BAM! Thyestes pulls that piece of living woolly bling out and is crowned king.
Let it be known that I will take any excuse to post a painting done by Dali
Defeated, but still ambitious Atreus was going to get guidance from Hermes, who told him that he needed to convince his brother to give him a chance to take the throne. Heeding his words, Atreus begged his brother to give him a chance of gaining the throne. Thyestes, probably giving his older the brother the troll face, told him that he would relinquish the throne when the sun moved backwards. Now Atreus might have been thinking, "Well fuck how the hell am I supposed to get the sun to go backwards?" Luckily he would receive some divine help. Zeus himself, playing the troll of trolls, decided to make the sun backwards and it was Atreus who was giving that smile and saying "Problem Thyestes?"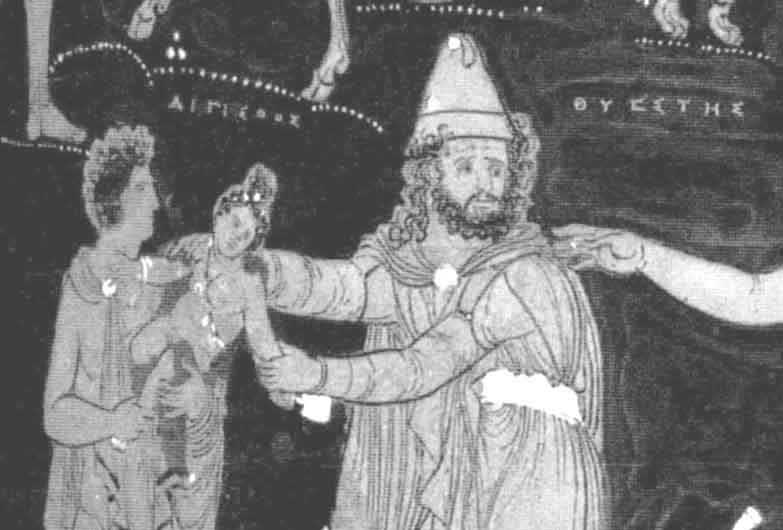 This will show that fiend of a brother
Soon after taking the throne and banishing his little brother, he then found out about that his wife and his own brother had been having a affair. Pissed off he decided to exact his revenge (and in those time payback, was horribly uneven.) Atreus took a play out of his grandfather's book and had his brother's children brought to him and killed, he had their body parts cut up and cooked (save for their hands and feet) Atreus then allowed his brother to return for dinner. And it was after Thyestes had finished his dinner that Atreus revealed what he had cooked for him. To add further insult to injury, Atreus taunted his brother with HANDS AND FEET of Thyestes' sons! (This guy clearly one upped his grandfather) Thyestes immediately fled in disgust, but not before cursing his brother and his family. (Let's see next week how this effects Atreus and his family. (I'll give you a hint, it doesn't end well)