Now after making a blog for the sole purpose of making fun of the fallen New York Jets and that loudmouth Rex Ryan, I wish to return your attention to the second part of the tragedy that is Agamemnon's murder and revenge.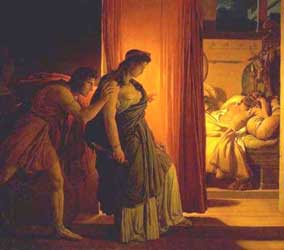 Man that woman is crazy!
As you might recall the whole catalyst for Agamemnon was the sacrifice of his daughter Iphigenia, much to the chagrin of his wife. Then as he was gone to fight in Troy Agamemnon's wife Clytemnestra took a lover by the name of Aegisthus who had revenge for the murder of his father by Agamemnon. When he returned from the conquest of Troy, the king expected a return to normalcy with his lovely wife; however, it was not to be for the vengeful couple of Clytemnestra and Aegisthus conspired his murder, just as the ignored seer Cassandra had warned the oblivious king. After his assassination, Aegisthus became king of Mycenae, but despite their feverish searches Clytemnestra and her lover could not find and murder the only son of Agamemnon (Yes because it is right for you to murder your children and not Agamemnon)
Well I for one think that father would like the phallic shaped tombstone
You see the children of Agamemnon, Orestes and Electra, were spirited away by a nurse during the coup of their father. The maid, whose name was Arsinoe, led them out of the kingdom into the countryside, where they eventually reached Athens which was ruled by the king Strophius who took them into his house and gave them shelter from their evil mother. For seven years Aegisthus ruled over their father's king, but in those seven years the two siblings grew up and on Orestes' twelfth birthday it was foretold by the oracle at Delphi that Orestes would need to avenge their father's death. However, Electra decided that they should first perform the rights of the dead to their fallen father. From there she convinced her preteen little brother to murder their mother and her lover.
Damn it picture! Who said you can have captions?
The boy (though I don't know if you can call him that from the pictures) went back to his home city of Mycenae with cousin/friend/(gay lover?) [this is Ancient Greece people, don't look so disgusted] Pylades and prepared to avenge Agamemnon. At some moment, the two catch the cruel rulers by surprise as they lunge over with daggers in hand. After a good game of stab the murderous regents like pin cushions, Clytemnestra just had one last thing to do to cause more misery to her family. She cursed Orestes for you see it is a huge taboo for a son to commit matricide (but not rape, bestiality, incest and infanticide) and who do the immortals send to punish your ass? Well the Kindly Old Ones of course! So I'm going to finish this and leave you with one image that describes what next week's blog is going to be about:
Pain and torment and lots of it!