Eons ago in May 30, 2010 I released this blog detailing the sacrifice of Agamemnon's daughter Iphigenia.
http://thatguywiththeglasses.com/blogs/myblogs/entry/dmog-agamemnon-and-iphigenia
Needless to say that Clytemnestra, Agamemnon's wife, was not entirely pleased with her husband taking the life of their daughter so that he could go to war with a far off kingdom. So here is the tragic results of the king's actions, which would only lead to more death and tragedy to this once happy family. Now if you are one of those who are just getting into Greek Mythology and the only experience with Agamemnon is Brian Cox's portrayal in
Troy
then you are doing it wrong, very wrong. This:
This:
(Center) Is Agamemnon
He is not some transparent allegory for the USA invading Iraq as was the character in the movie was. He was proud sure, but all in all he was a wise leader and great king. Also read Book 11 of the Iliad and you will be presented with a scene that really shows the awesomeness of Agamemnon. Anyway let's get back to the story, the tale of Agamemnon's murder.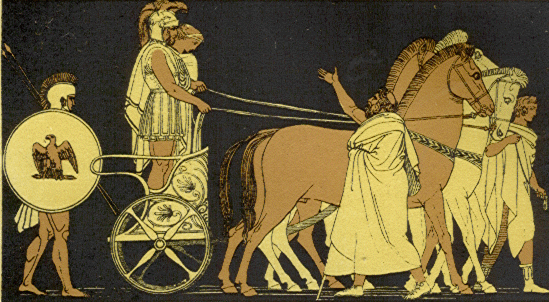 Honey, I'm home!
After sacking the city of Troy, Agamemnon took his loot, which included the priestess Cassandra who warned him of his murder by his wife, but because of a curse that Apollo had given her, no one ever believed her prophecies. So after a stormy voyage (wow that's incredibly cliched) Agamemnon finally returned to his kingdom of Mycenae (A place which I was supposed to see last summer in my Odyssey of my graduation vacation, but the unfortunate political upheaval of Greece made our cruise go to Santorini instead) Getting back on topic, it turned out that while the king was gone, Clytemnestra had been sleeping with another man. This man was Aegisthus and he was the cousin of Agamemnon and the son of Thyestes. His story is a tale of incest and cannibalism (so best leave that for another blog) So with the wife of the king by his side, Aegisthus decided to send out spies to report to him the return of the king, thus he would not be surprised if Agamemnon did return. When the king did return, the shrewd Aegisthus planned his hostile takeover of the crown.
Now let's do this quickly and quietly, hopefully he isn't a bleeder, we may be able to salvage that bed, it looks nice.
Apparently Aegisthus was one for poetic justice because he wanted Clytemnestra to kill her husband in revenge for sacrificing her daughter. As seen in this painting, she is even holding a knife, which was used in sacrifices. So while Agamemnon was lying in his bed after ten years of fighting, Clytemnestra and Aegisthus began stabbing the defenseless king and then Cassandra as she screamed in horror.
And Shazaam, my knife is an ax!
With the murder of Agamemnon, nothing could stop Clytemnestra and Aegisthus from taking over the kingdom. That is not entirely true though because the son and daughter of Agamemnon escaped, much to the dismay of their mother (wow). The daughter, Electra (yes that's where Marvel got the character from), was able to escape with her brother Orestes and they were able to find sanctuary in the kingdom that was ruled by Strophius who was able to hide them from their murderous mother. And so Orestes and Electra grew and their hatred for their mother grew even more. (hence why we have the term Electra complex) So let us finish here and continue next week.