The tale of Oedipus is a weird tale of attempted infanticide, patricide, and incestuous relationships with one's mother, but I wish to focus not on the aftermath of all this, no I want to look at the tale of how Oedipus slayed the sly sphinx with words alone. Though I suppose I should talk about all the murder and incest when they come up (*insert Phil Sebban Ha Ha right here*)
The king and queen of Thebes, Laius and Jocasta, were about to have a child. In preparation for such a momentous event, Laius went to the nearby shrine to Apollo in Delphi to consult the Oracle. It was there that the seer broke the bad news to Laius. For it foretold by that if Jocasta gave birth to a boy, the boy would grow up to murder his father and marry his mother. When Jocasta did have her baby it was indeed a boy, much to the fear of the king. He told his wife and they came to agreement that they needed to kill the baby. But not wanting to be guilty of murder, they ordered a servant to take the young boy out to die in the mountains.
Parenting at it's finest folks!
The slave could not go through abandoning a baby to die from exposure, so he gave the baby to the childless king and queen of Corinth, Polybus and Merope. It was there that he was named Oedipus, which means swollen feet after they noticed the injuries in his feet. They raised as one of there own and all was going smoothly until a drunk told the now 20 something that Polybus and Merope were not his real parents. With these revelations Oedipus asked his stepparents if they were truly his real parents. Of course they said they were, but Oedipus wanted to make sure so he made the pilgrimage to Delphi to consult the Oracle.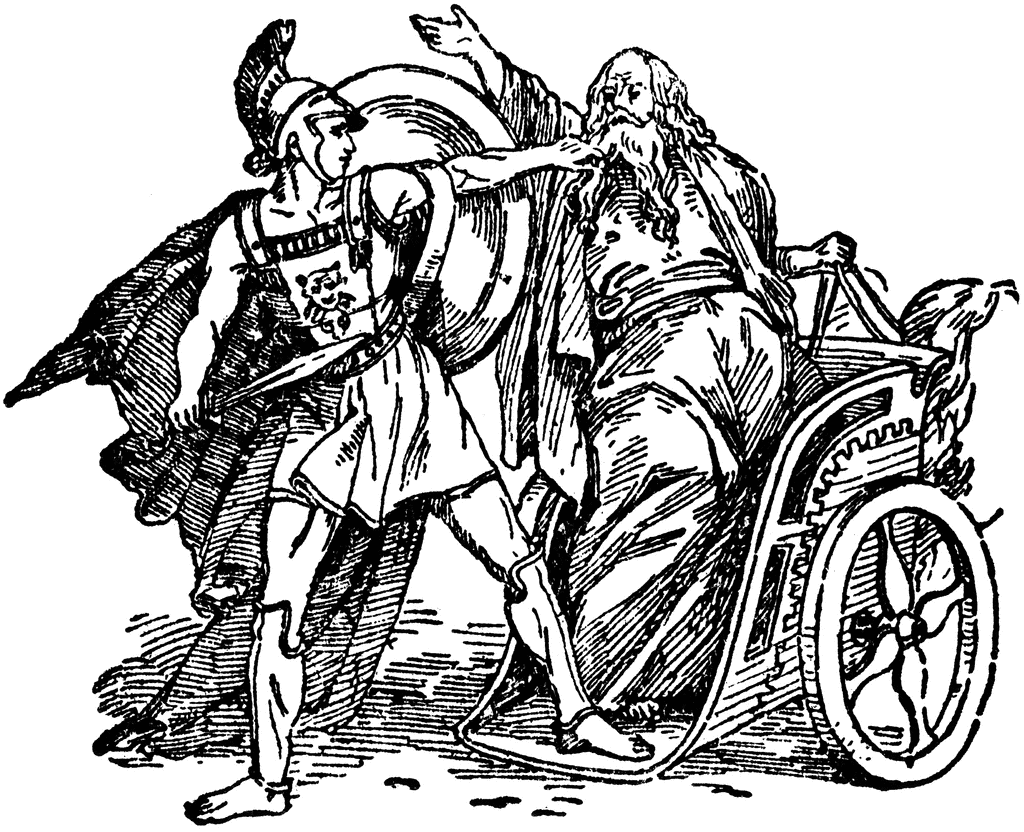 I knew I should have done it myself!
The Oracle told Oedipus the same divination that he had told his father years ago. Since the Oracle did not bother to tell who his actual parents were (you know the question he asked?) poor Oedipus thought that this meant his stepparents in Corinth. It was then that he made the fateful decision to not return Corinth, but go to the nearby city of Thebes. While on the way he reached a town where three roads met and it was there that he got in a situation that all of you folks who drive should know well, an old man thinking he has the right of way. However, unlike most of you, when you start arguing with the man, you don't jump off your chariot and kill the man with a sword, but this is what Oedipus did and that is the story of how Oedipus killed Laius.
First, what is your favorite color?
There was a bit of a problem in Thebes now, for the only route to get into the city was guarded by the sly and deadly Sphinx (Part lion, part eagle, and part woman) who asked anyone who tried entering the city a riddle and if they got it wrong (which they always did) she would kill and devour them. So when Oedipus arrived by the she-beast's cave it asked him the riddle: "What walks on four feet in the morning, two in the afternoon and three at night?" To which Oedipus replied: "Man; as an infant, he crawls on all fours, as an adult, he walks on two legs and, in old age, he relies on a walking stick." With her riddle solved, she gave a terrible screech and jumped off a cliff to her death. (And I thought I was a sore loser) With the kingdom of Thebes ridden of that terrible monster, trade was able to return food and wealth to the long impoverished city. As a reward for his actions, the Thebeans made him king and he married the recently widowed queen Jocasta. Thus is how clueless Oedipus fulfilled the Oracle's prophecy and married his own mother. I'm sure this all ends well for Oedipus right?